The area is well-served for those looking for business premises of all kinds, with quality properties available at prices and rents well below those on offer in more built-up areas of the country. Some key locations, as well as links to commercial property specialists in the area, are given below:
Naver Business Centre
Located in Thurso, just a stone's throw from the town centre, this well-appointed, modern business centre offers a range of office space designed to suit a variety of business needs. The space on offer ranges from single-person offices up to suites suitable for seven or eight, and tenants have access to boardroom and conference room meeting spaces.
With no requirement to take on a long-term contract, this is a perfect option for those looking to test the waters before committing to a more permanent space. Naver Business Centre also offers a hot-desking space, which can be hired for as little as a single hour, and virtual office services provided by Caithness Chamber of Commerce.
See their website here.
Ormlie Industrial Estate
Ormlie is a well established busy industrial estate 1 mile from the centre of Thurso town centre and opposite the North Highland College UHI. It consists of trade and industrial units.
Currently there is a rare opportunity to purchase a Commercial lease at 18 Ormlie Industrial Estate.
Sites in this particular industrial estate are much sought after due to the lack of supply and high level of demand for them.
The main road of the industrial estate runs past the entrance to this site. It's in an easily seen and prominent location as it's situated on a corner.
Business activities within the industrial estate is very varied: light industrial, plumbing merchants, timber merchants, public retail, offices, fuel station, agricultural retail, commercial stores, training providers, etc.
Details are:
60m deep x 40m wide.
Site has been levelled and currently sits in hard standing, hardcore.
Would lend itself to light industrial, retail, or offices.
Lots of scope for buildings, yard space, and car parking.
Further details can be obtained by calling 01847 892122.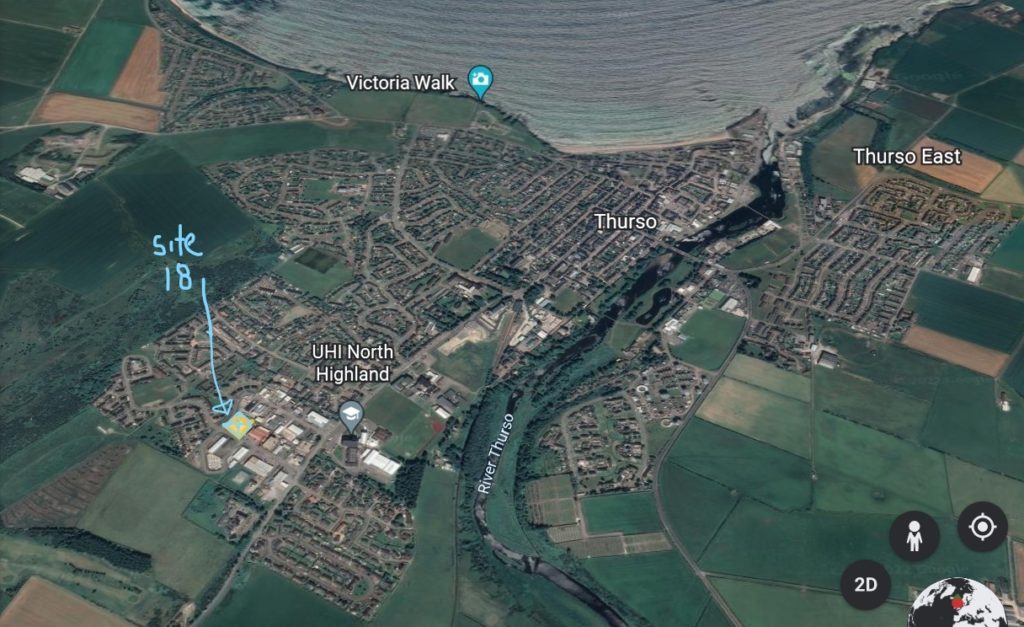 Thurso Business Park
Home to major providers of business services including BT/Manpower and Equiniti, Thurso Business Park is ideally situated for those looking for a more substantial office space while remaining close to the town centre. With excellent transport links to the town centre and close proximity to other major business services providers, this is an ideal location.
Read more about Thurso Business Park here.
Forss Business & Technology Park
Situated just outside of Thurso and near the Dounreay nuclear site, for companies working in the nuclear industry, Forss offers an unrivalled set of advantages, including ONR approval and presence within the Civil Nuclear Constabulary jurisdiction, allowing "list X" and classified work to be undertaken.
Forss also offers an ideal base for companies working in the renewable energy sector. Proximity to the Pentland Firth and to proposed onshore wind sites in West Caithness and Sutherland ensures your team can remain close to site while enjoying the comforts and conveniences of modern office accommodation.
See their website here.
Wick John O'Groats Airport Industrial Estate
Wick Airport Industrial Estate is long established and located close to Wick John O'Groats Airport. The business development site, which was developed by the Highland Council, comprises a mixture of businesses and organisations.
The site's proximity to the airport, with its connections to Aberdeen and Edinburgh, is ideal for those working across multiple sites or with close connections to suppliers or clients elsewhere in the UK.
See more on the Highland Council website here.
Golspie Business Park
Golspie Business Park is owned by Highlands and Islands Enterprise and lies on the southern outskirts of Golspie benefitting from excellent road transport links to the main A9 Inverness/Wick trunk road. Golspie lies approximately 51 miles north of Inverness. All local services and amenities can be found in Golspie.
Read more about Golspie Business Park opportunities here.
Highlands and Islands Enterprise Property information
The Highlands and Islands Enterprise website has lots of information on the opportunities available across the region. Use this link to see details of properties available to rent and purchase within Caithness and Sutherland.