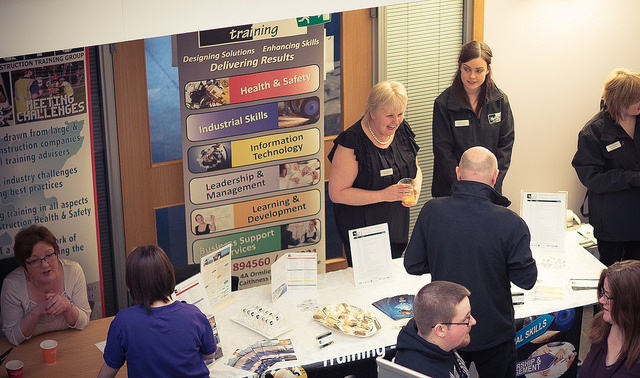 Apprenticeship Opportunities in the North Highlands
With UK leading companies and award winning, state of the art training facilities, the North Highlands is an ideal place to carry out an apprenticeship potentially marking the beginning of a successful, rewarding and fulfilling career. If you're in a position where relocation to the Highlands is an attractive option but you're concerned about the opportunities for your family, we completely understand. It's a difficult decision to make a leap to a new life especially when there is no guarantee that things will go to plan. That's where we come in. Naturally, we can't guarantee things will go to plan but we can offer friendly, impartial advice about how the North Highlands can open doors and become the perfect home for the whole family.
In previous posts, we've discussed early education in the North Highlands and how we believe our children have access to fantastic education opportunities both inside and outside of the classroom. The highlands are lucky to have such caring and nurturing teachers. That quality education continues from nursery right through to further and higher education. The Energy and Technology Education Centre (ETEC) which makes up part of North Highland College UHI Thurso campus is believed to be one of the largest and best equipped of its type in the North of Scotland and is the study centre for many of our local apprentices. Many local and national companies invest in young people in Caithness and Sutherland training them from school leaving age until they're fully qualified in their chosen field. Apprenticeships are a fantastic way to progress from school or college onto a fulfilling, challenging and successful career alongside academic achievements.
Each year, the Developing the Young Workforce Project Team in the North Highlands host employment events which are open to all members of the public. The events offer an opportunity to meet with employers, talk with people who have real life experience of the working world and can offer invaluable, practical advice. The Caithness jobs event takes place in February 2019 within North Highland College Thurso campus and would be the perfect starting point for someone new to the area to find out more about working in Caithness. In addition to having information on apprenticeships and opportunities for young people, exhibitors are keen to engage with people of all ages with all levels of skills. Many different industries are represented at the event with opportunities for many different skill sets and interests.  
Taking the leap to relocate to a new area can be daunting which is why we're here to offer advice every step of the way. Events like the annual jobs event help to bring people together to discuss the employment opportunities of Caithness and the wider North Highlands area.
To talk to us direct, please feel free to e-mail us at recruitnh@caithnesschamber.com