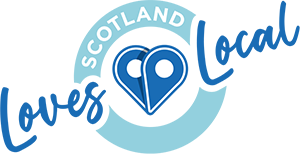 The streets are alive with the sound of tills ringing!
Like high streets up and down the UK, North Highland high street retailers, artists and crafters have been hit hard by the Coronavirus pandemic. Visitors to the area can comment on it being strange that our closes Marks & Spencer or McDonald's is a two hour car journey away but given the year world renowned high streets have experienced, our communities are grateful that our high streets remain vibrant and busy. 2020 was catastrophic for high streets, with household names like Topshop and Debenhams becoming a thing of the digital world only, leaves vast holes in our usually bustling streets. Huge premises closed for months on end seemed to be the final nail in the coffin for many high street brands whereas, our smaller, independent retailers and one person entrepreneurs were often able to adapt quickly and offer customers a service which suited their needs and Covid restrictions.
Here in the North Highlands, Lisa Poulsen, artist and owner of Inspired By Caithness saw a gap in the market for producers, retailers and fellow artists in the middle of recurring lockdowns. The Caithness Market was born and was a huge hit. The market is an inclusive, online platform for businesses, makers and artists of all kinds. It's super simple sign up process means that it's cost effective, supports local charities and can even employ an administrator. The online event gave shops which were otherwise closed an avenue to share videos and pictures of stock which could be posted, artists an opportunity to share their recent works with galleries closed and makers to share their handmade items as traditional markets were no longer permitted thanks to Covid restrictions.
Lisa was so well supported and so, has now passed the reins of the market to a group of keen experts to continue while she gets back to producing incredible art and championing shopping small. Lisa flew the flag for small businesses not just figuratively but physically as she took part in Holly Tucker's (founder of Not on the High Street) national campaign supporting independent retailers. See the national video here and look out for Lisa at John O'Groats!
The coastal town of Wick has for many years, had a weekly outdoor market where producers and makers have sold their items in the high street. Now, 20miles along the road in the UK's most northerly mainland town Thurso follows suit thanks to funding from the Town Centre Fund which was administered by the Highland Council. Thurso Community Development Trust applied for funding to support the town centre. The group carried out marketing campaigns and delivered a local business directory to all households and will now embark on an outdoor market plan. 10 pop up market stands and a marquee have been purchased and will be available to artists, makers and businesses from across the North Highlands and beyond. These types of town centre events encourages people to visit their high streets, increases their awareness of the incredible products available and gives a fantastic feeling of community spirit for all. As we know, when we buy from a small business, we're supporting a family with a dream.
Our team would love to welcome you, your family and your dreams to the North Highlands of Scotland. Whether you're looking for employment or to relocate your business with you – we will do our very best to support you on your journey. Our advice is free, impartial and practical. Get in touch today.