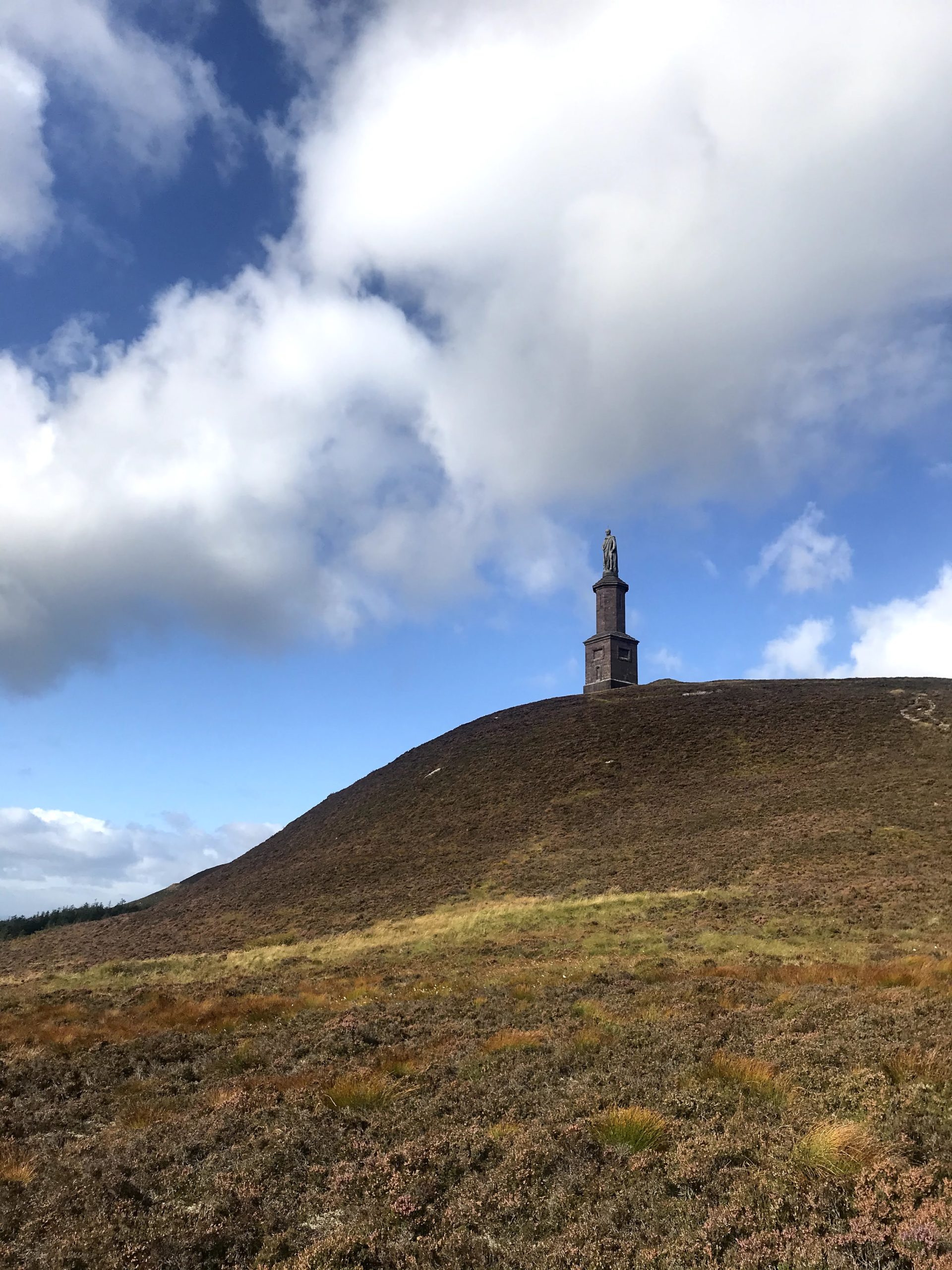 An Autumnal walk in Sutherland
As the nights start to shorten and the trees begin to have that gorgeous, orange glow, I decided to not let another year slip by. You know how it is with the 'on your doorstep' activities. At least for a while this year we could say 'we weren't allowed to travel that far' but at the moment, there's no excuse so we packed our back packs ready to finally climb Ben Bhraggie.
From Thurso, the drive to Ben Bhraggie in Golspie is around an hour and a half by car and is 60 miles. We set off around 8.30am with backpacks full of essentials – snacks from Reid's of Caithness and waterproofs! For the first time, we left out eldest dog, a Labrador Collie cross at home and took the younger and more energetic one with us. The feeling of betrayal was horrible but she had a lovely time relaxing with the house to herself and a visit from my mum to keep her company. Living in the North Highlands of Scotland is a dream for dog lovers and owners, you can read more about that in a previous blog entry here.
We arrive in Golspie around 10am and park in the car park next to the public toilets and The Coffee Bothy. Not allowing ourselves to get distracted by the smell of delicious coffee, we headed for Ben Bhraggie following instructions from Walk Highlands. There had been a debate in the car about the duration of the walk. My research told me that around 2 hours would do it whereas my partner, James had read 4 hours. I wouldn't have included the bicker in this post if we hadn't got back to the car within two hours which meant that I, was right! In fairness, on reaching the top it looked like there was an additional walk you could continue with which we assume is where the additional hours would have come in. Anyways, back to our adventure.
We walked out of the village and followed the signs for Ben Bhraggie. The site is home to Highland Wildcat Mountain Bike Trail and we past a dedicated car park for vans closer to the start of the trail. We made sure to follow the footpath signs and were on our way. We went past a few residential properties where the locals must be well used to visitors passing – one even had apples & herbs outside with signs that read 'please enjoy' which always brings a smile!
We began the climb through trees. It was beautifully still even though the forecast hadn't been great, we quickly discovered we had far too many layers on! We emerged from the shelter of the trees and began to get a view of the village below – we hadn't been walking that long at all by this point and even still, the views were impressive. The climb was quite steep in my humble, non experienced hill walker opinion. We were glad to have left the eldest dog at home. All in all the walk is 'only' 5k however the steep climb made it feel like a workout!
Just over half way up, there's a gate to go through which is part of the mountain bike trail. The bikes would whizz past over your head as you go through the gate below. That might make it sound a little dangerous but it was like a mountain bike bridge that you walk under rather than having bikes crashing into pedestrians or run away dogs! Underneath the wooden bike ramp is a bench; an ideal place to stop for a rest should you want to! Although not quite at the top, the views here are awesome! It's at this point you can begin to see the top of the 100ft tall statue of the Earl of Sutherland. As you continue to climb and reach the top, the views of Sutherland down below are genuinely fantastic. Because of the steepness, it's quite exciting to think how high up you are in such a short space of time. Once we reached the top the forecast strong winds had arrived and it was blowing a hooley! Still a very enjoyable view however and we saw the continuing path which would have led us to The Big Burn gorge which we'll return to do another time!
The River Bothy
. We're lucky here in the Highlands that independent, artisan cafes are never far away! We ordered a take away as we couldn't sit inside the very cute cafe at the foot of the iconic Berriedale Braes (thanks Covid) and i'm not sure if it was because we'd been walking for two hours but it felt like the best lunch I'd ever had! Simple classics, pulled ham and mustard mayo and Egg and cress sandwiches and cream of tomato soup with some home made traybake to take home for later. The road at Berriedale has recently been revamped thanks to a £9.6 million investment.
Read about that here.